Travel Information
Getting to Madrid
By Air
:
Adolfo Suárez Madrid-Barajas Airport, the third European airport, is just 13 km away from the city, and its connections by public transportation are some of the quickest and easiest to use in the world: besides bus or taxi, travelers may take the Metro, where every five minutes a train to/from Adolfo Suárez Madrid-Barajas Airport leaves from Nuevos Ministerios Station in the City Centre at a cost of 4.5 - 5 €, or take the Suburban where every 30 minutes a train to/from Adolfo Suárez Madrid-Barajas Airport leaves from Chamartín at a cost of 2.55 €. In 2013, the airport handled 39,729,027 passengers, 333,065 operations from all over the world. Adolfo Suárez Madrid-Barajas International Airport receives flights from over 172 destinations, including several low cost airlines, and is the main European air hub for Latin America.
more info
By Train
:
International trains arrive at Atocha (France and Portugal) or Chamartín (France) train stations. Atocha is the station located in the south center of the city and Chamartín is in the north. Both stations have access to metro lines.
more info
By Bus
:
Avenida de América and Méndez Álvaro bus stations are the main ones in the city. Both stations have routes to other Spanish cities and international destinations. Méndez Álvaro is located in the south of the city and Avenida de América is located in the north east.
Getting around Madrid
By metro
:
more info
By bus
:
more info
By train (Cercanías)
:
more info
More Info:
¡Madrid! Official tourism website: www.esmadrid.com/en
Maps and essential guides of Madrid: www.esmadrid.com/en/maps-and-essential-guides/
Tourist travel pass: more info

Android Apps
Here you will find useful and free Android apps to come to Madrid:
Madrid City Guide
Madrid
Madrid City Travel Guide Map
App Madrid Guide Madrid
Madrid: Guia turístico
Madrid Subway Off-Line
Madrid Museums
Second Canvas Museo del Prado
El prado Audiomuseums

iPhone/iPad Apps
Here you will find useful and free iPhone/iPad apps to come to Madrid:
Museo Nacional del Prado. Guía Oficial / Official Guide
Museo Nacional del Prado Guía
Madrid Guía de Viaje con Mapas Offline
Madrid Guía de Viaje con Mapas Offline
Metro de Madrid Oficial
Guía de Madrid - minube
Madrid App Guía de ciudad
Guía oficial Madrid
Madrid - tu guía de viaje de tripwolf con mapas offline
Guías de viajes mTrip (con mapas offline)
About Madrid
No city on earth is more alive than Madrid, a beguiling place whose seer energy carries a simple message: this city knows how to live.
It's true that Madrid doesn't have the immediate cachet of Paris, the monumental history of Rome or the reputation for cool of other Spanish cities as Barcelona, Granada, Salamanca or Toledo. But it's a city whose contradictory impulses are legion, the perfect expression of Europe's most passionate country writ large.
This city has transformed itself into Spain's premier style centre and its calling cards are many: astonishing art galleries; relentless nightlife (what Hemingway wrote in the '30s remains true to this day: "Nobody goes to bed in Madrid until they have killed the night"); an exceptional live-music scene; a feast of fine restaurants and tapas bars; and a population that's mastered the art of the good life. It's not that other cities don't have these things. It's just that Madrid has all of them in bucket-loads. As a result, Madrid boasts one of the most packed calendars of concerts, festivals, shows, sports events and exhibitions in the world. Take a peek at a
selection
of the most important events programmed to take place this year and start planning your next visit.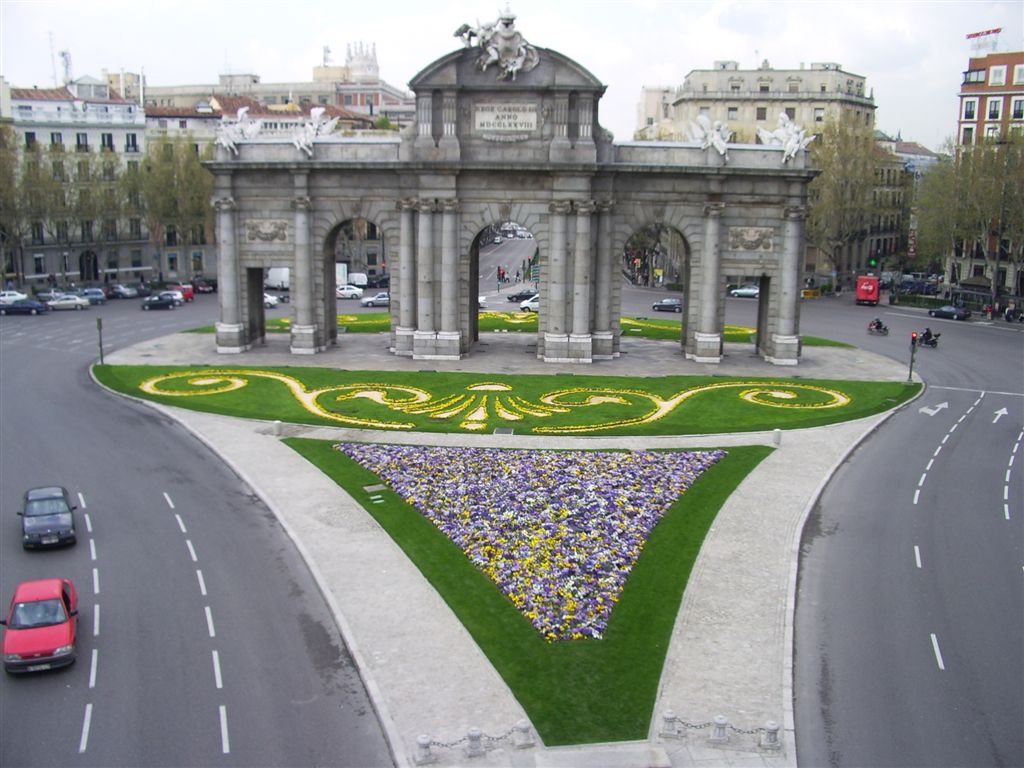 Madrid has three of the finest art galleries in the world - if ever there existed a golden mile of fine art, it would have to be the combined charms of the
Museo del Prado
(with
Las Meninas
and
La Rendición de Breda
by Velázquez;
La Maja Vestida & La Maja Desnuda
,
El Tres de Mayo
by Goya; paintings by Dürer, El Greco, Tintoretto, Caravaggio, Rubens or Rembrandt, among others), the
Centro de Arte Reina Sofía
(with
Gernica
by Pablo Picasso or
Muchacha en la Ventana
by Salvador Dalí) and the
Museo Thyssen-Bornemisza
(with paintings by Monet, Sissaro, Miró, Picasso or Van Gogh). Beyond the museums' walls, the combination of stunning architecture and feel-good living has never been easier to access than in the beautiful plazas, where
terrazas
(cafes with outdoor tables) provide a front-row seat for Madrid's fine cityscape and endlessly energetic streetlife.
Throw in some outstanding city parks (the Parque del Buen Retiro, in particular) and areas like Chueca, Malasaña and Salamanca, which each have their own identity, and you'll quickly end up wondering why you decided to spend so little time here.
Among its wonderful parks and leisure centres, one of the newest and most ambitious projects is the Madrid Río enclave. The Madrid Río project originated when the section of the M-30 ring road running parallel to the Manzanares River was moved underground, resulting in an area of parkland 10 kilometres long. The river bank has thus become an integral part of the city centre, and now offers Madrilenians and visitors an area surrounded by vegetation and filled with wide a range of sports, leisure and cultural facilities.
If you want to spend a day in the city centre, begin in
Plaza Mayor
, with its architectural beauty, fine
terrazas
(cafes or bars with outdoor tables) and endlessly fascinating passing parade. Wander down
Calle Mayor
, passing the delightful
Plaza de la Villa
, and head for
Palacio Real
. There's no finest place to rest than in
Plaza de Oriente
.
Double back up towards the
Puerta del Sol
, and then on to
Plaza de Santa Ana
, the ideal place for a long, liquid lunch. Time for some high culture, so stroll down the hill to the incomparable
Museo del Prado
, one of the best art galleries of the world. In anticipation of a long night ahead, catch your breath in
Parque del Buen Retiro
before heading into Chueca or Malasaña for great restaurants.
| | | | |
| --- | --- | --- | --- |
| | | | |
| Palacio de Correos | | Plaza Mayor | |
| | | | |
| --- | --- | --- | --- |
| | | | |
| Retiro | | Palacio Real | |
Madrid Surroundings
There are some interesting Unesco World Heritage cities close to Madrid worth to be visited in a day-tryp by train:
El Escorial
. The imposing palace and monastery complex of San Lorenzo de El Escorial is an impressive palace, rising up from the foothills of the mountains that shelter Madrid from the north and west. The one-time royal getaway is now a prime little town overflowing with quaint shops, restaurants and hotel catering primarily to throngs of weekending
madrileños
. The fresh, cool air here has been drawing dwellers since the complex was first ordered to be built by Felipe II in the 16th century. Most visitors come on a day trip from Madrid.
Toledo
. Toledo is Spain's equivalent of a downsized Rome. All you need to cover the city's sights is a pair of sturdy cobble-proof shoes. The city's labyrinth of narrow streets, plazas and inner patios is also reminiscent of the
medinas
(towns) of Damascus, Cairo or Morocco's Fez, although the historic diversity of Christians, Jews and Muslims equals an intriguing combination of churches, synagogues and mosques. Add to this a lofty setting, high above Río Tajo, and it's no surprise that Toledo is one of Spain's most-visited cities.
Ávila
. Ávila's old city, surrounded by imposing city walls comprising eight monumental gates, 88 watchtowers and more than 2,500turrets, is one of the best-preserved medieval bastions in all Spain. At night, when the walls are illuminated to magical effect, you will wonder if you've stumbled into a fairy tale.
Within the walls, Ávila can appear caught in a time warp. It's a deeply religious city that, for centuries, has drawn pilgrims to the cult of Santa Teresa de Ávila, with many churches, convents and high-walled palaces.
As such, Ávila is the essence of Castilla, the epitome of old Spain.
Segovia
. Unesco World Heritage-listed Segovia has always had a whiff of legend about it, not least in the myths that Segovia was founded by Hercules or by the son of Noah. It may also have something to do with the fact that nowhere else in Spain has such a stunning monument so Roman grandeur(the soaring aqueduct) survive in the heart of a vibrant modern city. Or maybe it's because art really has imitated life Segovian-style - Walt Disney is said to have modelled Sleeping Beauty's castle in California Disneyland on Segovia's Alcázar. Whatever it is, the effect is stunning: a city of warm terracotta and sandstone hues set amid the rolling hills of Castilla and against the backdrop of Sierra de Guadarrama.
| | | | |
| --- | --- | --- | --- |
| | | | |
| El Escorial | | Toledo | |
| | | | |
| --- | --- | --- | --- |
| | | | |
| Ávila | | Segovia | |
Weather Information
June in Madrid should be hot and dry. However, there is an expression that is worth noting - "Hasta el cuarenta de mayo no te quites el sayo" ("Until the fortieth of May, don't take off your raincoat"), that is, don't put your wet-weather clothes away until 9th June.
The average maximum temperature in Madrid in June is 80°F/27°C and the average minimum temperature is 59°F/15°C. For more information, check
this
complete page on Madrid's weather averages.
Useful information
CLIMATE
The average maximum temperature in Madrid In November is 57º F/14ºC, and the average minimum temperature is 43º F/6ºC. Although Madrid climate is quite dry, November can bring some occasional rainfall.
CURRENCY AND BANKS
The national currency of Spain is the European euro (€). Exchange facilities are available at Adolfo Suárez Barajas airport, most banks and also along central streets like Gran Vía. Many visitors to Spain have commented on the advantage of bringing debit cards rather than credit cards, since the exchange rate is generally much better and commissions lower. However, it would be prudent to check this with your bank before travelling.
ELECTRICITY
Spain's standard electricity supply is 220 Volts (V), 50 Hertz (Hz) AC. The plugs are round two pin, European standard.
EMERGENCIES
The number 112 can be dialled to reach emergency services - medical, fire and police - from anywhere in Europe. This Pan-European emergency number 112 can be called from any telephone (landline, pay phone or mobile cellular phone). Calls are free. It can be used for any life-threatening situation, including:
Serious medical problems (accident, unconscious person, severe injuries, chest pain, seizure)
Any type of fire (house, car)
Life-threatening situations (crimes)
SHOP
Most shops open between 09.30 and 13.30h in the morning and 17.00 to 20.00h in the afternoon on weekdays. During the summer months, many establishments will stay open much later in the evening. On Saturday opening hours are restricted to the morning shift and Sunday is literally the day of rest. However there are some department stores that remain open all day long until 22:00h.
TIME
The time in Madrid is the Central European Time (Summer Time GMT+2)
TIPPING AND TAXES
At almost all restaurants, service is included, but it is common practice to leave a tip or around 5%, as it is with taxi drivers (depending on how you liked the driving!).
Tipping is not obligatory anywhere, but much less in bars or cafeterias. However, if you leave a small tip it shows your appreciation of the service - a good rule of thumb here is 10 to 20 cents per round of drinks. Never leave tips in pubs or discotheques. A tip of 1 euro may be used in many other occasions, such as with hotel porters.
There are two different tax rates in Spain 8% and 18%. You will pay 8% tax on your hotel and restaurant bills, as well as other items considered "essential". This tax is not refundable.
Most physical items purchased in shops will be taxed at the 21% rate.
TOURIST OFFICE
One of the main tourist information offices is the Municipal Office of Tourist Information, which can be found at Plaza Mayor (address: Plaza Mayor, 27). You can reach them on the telephone or fax at: Tel: 91 366 54 77. Fax: 91 588 16 36. If you are planning to see as much as possible on your stay, then this tourist information office should be the first stop on your itinerary.
TRANSPORT
The city of Madrid counts with excellent means of transport. Its underground network has modern trains and stations and links to most destinations reaching even some of the main towns in the surrounding areas of the city. Using the underground will be the best way to get from one part of the city to another. Here is a useful website for planning your transportation in Madrid:
www.ctm-madrid.es
, you will find schedules for buses, trains and for the subway lines.
Adolfo Suárez Barajas airport
Madrid has three airports, the main one being Adolfo Suárez Madrid-Barajas Airport. In terms of infrastructure, equipment, resources and air traffic, it is the most important air hub in Spain and the fourth in Europe. It is just 13 km away from the city, and access to it by public transportation is one of the quickest and easiest to use in the world: besides bus or taxi, travelers may take the Metro, where every five minutes a train to Adolfo Suárez Madrid-Barajas Airport leaves from Nuevos Ministerios Station in the City Centre at a cost of 2 euros while you will pay only 1.50 euro for a ticket within the City! In September 2011, the suburban rail network has opened a new service that directly links Principe Pio station to Terminal 4 of Adolfo Suárez Barajas.
In 2007, the airport handled 52,143,275 passengers, 483,284 operations and 322,244 tonnes of cargo. Adolfo Suárez Madrid-Barajas International Airport receives flights from over 166 destinations, including several low cost airlines, and is the main European air hub for Latin America. The inauguration of the new terminal that has set its capacity in 70 million passengers a year took place on 5th of February 2006. The building was designed by Richard Rodgers and Lamela and it has received the Stirling Architecture Award.
Metro network
The underground (Metro) is the fastest, most efficient and most affordable way to move around Madrid. The city has a vast metropolitan network, one of the most comprehensive in Europe, and covers almost all the points in the capital and many of the neighboring areas.
Currently, there are twelve metro lines and three Metro Ligero (tramway) lines. Out of all these, Line 8 (Nuevos Ministerios – Airport T4) is particularly noteworthy. This modern line connects the capital to Adolfo Suárez Barajas international airport, arriving in only 12 minutes to the rest of terminals, and to Madrid's Trade Fair grounds (Ifema).
The underground system covers a total of 383.3 km. The price of a single ticket with a validity of 1 hour is 1.50 euro, and can be purchased at all Metro stations.
Bus, metro & train networks
Madrid has an extensive city bus network (215 lines), run by the company Empresa Municipal de Transporte (EMT), which covers the whole city. All the vehicles that make up the EMT fleet, 2,022 in total, are air-conditioned.
Madrid's buses have special facilities for disabled access. The cost for a single ticket with a validity of 1 hour is 1.50 euro.
Taxis service
There are more than 15,000 taxis in Madrid, so it is not usually difficult to find one available in the city's main thoroughfares. You can order them by phone or through internet. In the streets, just make a sign and they will be keen to stop! Prices are quite reasonable, considering that a one-way trip from the city centre to the airport costs around 20-25 euros.
TOURIST TRAVEL PASS
The Tourist Travel Pass is the most affordable and practical way to get to know Madrid. It can be used on all public transport in the Region as many times as necessary within the valid dates. There are five passes valid for 1, 2, 3, 5 or 7 days. The Tourist Travel Pass can be purchased at:
All Metro stations
Metro Passenger Information Office at Adolfo Suárez Barajas Airport (T1-T2-T3 Metro stations)
Certain tobacco shops and press kiosks
Municipal Tourist Office (Plaza Mayor 27)
Regional Tourist Offices (c/ Duque de Medinaceli 2 and at the Atocha Station
National and International Tour Operators
Spanish Travel Agencies and hotels in the city
Children under 11 years old get a 50 per cent discount.
VISA
The Spanish Ministry of Foreign Affairs and Cooperation establishes some requirements for entry into Spain for a stay not exceeding ninety days in any six month period. Further information regarding these requirements and as well as the Visa issues can be found through this
link
and/or directly through the Spanish Embassies or Consulates whose addresses can be found through this link.